LIVE+ Digital Spending Rewards
LIVE+ members who spend $2,000 in a single transaction by electronic payment will receive Cityplaza $100 Fashion e-Voucher

Upload eligible receipt to TAIKOO+ mobile app to reserve or redeem reward, and use the e-Voucher directly at shops
Step 1
Upload eligible receipt within 14 days of the transaction date
(the purchase day is counted as the first day)
Step 2
Reserve rewards before receipt is approved /
Redeem rewards after receipt is approved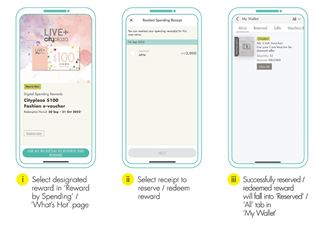 Step 3
Redeemed reward can be used directly at shop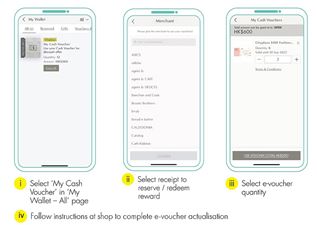 Click here for Tenant Acceptance List of Cityplaza Fashion Voucher

Terms & Conditions:
- Eligible spending must be $2,000 single electronic transaction with the receipt uploaded within 14 days of the transaction date (the purchase day is counted as the first day) and successfully approved.
- Reward is successfully redeemed and be able to be actualized only when the receipt is approved, and the reward is displayed in 'My Wallet – All' page.
- If the receipt used for reward reservation is rejected, the reserved reward will be forfeited. Member may check the receipt approval status in 'Receipt Status' of TAIKOO+ mobile app.
- Reward can only be reserved, redeemed and actualized through TAIKOO+ mobile app.
- For terms and conditions of Cityplaza $100 Fashion e-Voucher, please refer to 'Reward' page in TAIKOO+ mobile app.
- Reward quota is limited on a first-come, first-served basis, while stock lasts.
- Terms and conditions apply, for details please click here.
- For details about eligible receipts, points earning and LIVE+ Membership Programme Terms and Conditions, please click here.