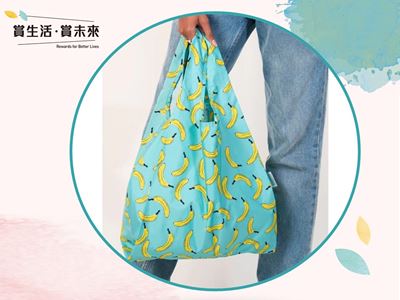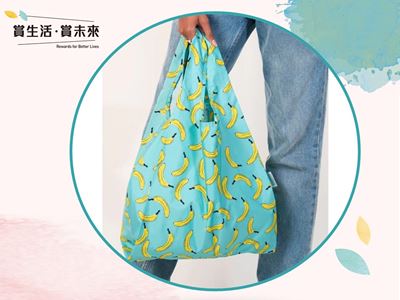 APITA
【Rewards for Better Lives】Kind Bag Reusable Bag (Banana)
100% recycled & recyclable material shopping bag.
Made from rescued plastic bottles destined for our oceans.
Helps eliminate the need for single-use plastic bags.
Vegan and cruelty free.
High-quality, premium, strong material.
Water-resistant and lightweight.
Strong stitching to carry those heavy loads up to 20kg.
Machine washable at 30 degrees.
Large capacity fitting in 2-3 grocery bags of shopping.
Folds into the attached small pouch and can fit into a pocket or handbag.
Wide arms ensuring a comfortable fit around the shoulder.
Member may redeem reward in TAIKOO+ mobile app with points and visit designated location in person to collect the reward within redemption period.
Service hours of designated actualise location:
Cityplaza LIVE+ Member Concierge (near Shop 265, 2/F) - 11:00am – 8:00pm
Other Cityplaza merchants – please refer to the operation hour of individual merchant
This reward is available on a first-come, first-served basis while stocks last.
This reward is only available while in stock. The Company may, at its sole discretion, terminate the provision of a reward, or provide a similar reward of equal value at any time without notice prior to the redemption. The Company does not guarantee that rewards will remain available.
All photos and descriptions are for reference only, the real product shall prevail.
This reward is non-refundable and cannot be exchange for cash or other rewards.
This reward does not include any warranty, exchange, transfer, cash refund or change. Members are responsible for checking the quality of their rewards at the time of redemption. No rewards will be reissued and no points will be refunded afterwards.
Redemption requests cannot be cancelled once confirmed. The required points will be deducted from the member's account without refund.
This reward will not be replaced if lost or stolen.
Swire Properties Limited reserves all rights to change these terms and conditions.
In the case of any dispute, the decision of Swire Properties Limited and the participating merchants shall be final.
Actualise location:
2/F LIVE+ Concierge (near shop.265)