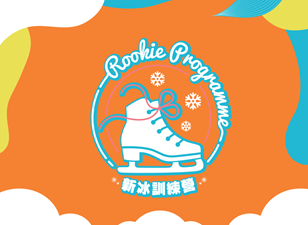 Want to have a cool break in this summer? Rookie Programme offers a variety of intensive courses for people of different ages and levels. You may even select the language of your choice. In just 2 - 3 weeks, you can gradually master your skills and experience the joy of skating on ice. Bunch of offers for enrolment is ready for you, so get ready to fly on ice!
Exclusive Privileges For First Time Enrolment
2x 50%-Off Entry Tickets
2x Buy 1 Get 1 Free Entry Tickets

4x Free Locker Rental Coupons

A Pair of Gloves

A Set of Souvenir

1x Shopping Coupon of Skate Shop

New student of Rookie Programme and other regular course during September or October this year can enjoy an administration fee waiver of HK$50
Privileges For Re-enrolment
A Skate School 20% discount for 1 regular course (5 lessons)

1x Complimentary Entry Ticket
Course Details
Age 3 - 16 are welcome to sign up

Choose teaching language from Cantonese, English, or Putonghua

For a total of 6 lessons, students may choose to take 2 or 3-week group lessons in July and August

Each lesson is 55 minutes (including 30 minutes of teaching and 25 minutes of practice time; no practice time for the 1st lesson)

The fee for each student is HK$1,260 (including ice rink usage and skate rental)

Graduated students will receive an Ice-Skating Certificate
Click HERE to check Rookie Programme timetable!
Enrolment is available now! You can have the details by giving us a call at 2844 8633 !